Gun laws in Pennsylvania are relatively relaxed, as no license is required to purchase a firearm in the state. You will need a concealed carry permit, however, if you wish to carry your gun in public. There is a statewide database tracking purchases, too, and background checks in Pennsylvania are necessary for residents and nonresidents before buying a gun in the state.
These background checks run through the Pennsylvania State Police and are a straightforward process that shouldn't cause any issues for the average gun buyer. They are a quick look into a person's past before allowing them to purchase a gun. Pennsylvania gun dealers are legally obligated to conduct a background check before selling any firearm, and all private handgun sales must go through a licensed dealer or the local sheriff's office.
The State Police complete the checks using the Pennsylvania Instant Check System. The process is usually pretty quick, as long as no red flags show up on the purchaser's record. This guide will teach you everything you need to know about background checks in Pennsylvania.
The Purpose of Pennsylvania Background Checks
Over 400,000 people underwent background checks in Pennsylvania in 2020, with nearly 7,000 being denied. These denials usually have to do with the three aspects of the individual's past that the background check covers:
Your Criminal History
The first thing a Pennsylvania background check does is look at your criminal history. This research will show if you have any felonies or other articles on your record that prohibit you from owning a firearm in Pennsylvania or the rest of the country.
Juvenile Delinquency
Background checks also go through your juvenile criminal history, which doesn't show up on your primary criminal record check. This stage looks for violent crimes that could make it illegal for you to possess a gun in the United States.
Mental Health History
Your mental health history is another important aspect of your background check. There could be a diagnosis from your doctor that prevents you from legally buying a gun in the state.
Note that not all crimes disqualify the buyer from owning a firearm, but in some cases, the Pennsylvania State Police will file a temporary delay while investigating further. You should be aware of any crimes on your record that would prevent you from buying a firearm before heading to the gun dealer.
7 Steps to Receiving a Background Check and Buying a Gun in Pennsylvania
You can receive your background check at the point of sale at any licensed dealer in the state. Don't be surprised if it takes a bit of time, because there is a procedure these gun dealers have to follow before completing the purchase.
1. Call the Pennsylvania State Police
The process starts with the dealer placing a call to the Pennsylvania State Police to inquire about your background check. The police department must have someone answering the phones to conduct background checks from 8:00 a.m. to 10:00 p.m. seven days a week. The officer who answers the phone will have experience with these checks and usually completes this part of the process quickly.
2. Check Your ID
The dealer has to check your identification during the call to prove your identity. Keep in mind that presenting false identification to a firearms dealer is a third-degree felony that will land you in jail.
3. Collect a Fee
There is a nominal fee of a maximum of $2 associated with conducting a background check in Pennsylvania. The dealer must collect this money from you to complete the process.
4. Request a Purchase Application
The dealer must ask that you fill out a purchase application form, which includes a declaration that the person in the shop buying the gun is doing it for themselves and not for a third party. The dealer must create a copy of this application and hold onto it for at least 20 years while mailing the original to the State Police and making another copy for the buyer.
5. Receive a Unique Approval Number
A unique approval number accompanies every firearm sale in Pennsylvania. This number comes directly from the State Police and guarantees that the buyer has passed the background check and is eligible to own a gun in the state. This number must be recorded on the purchase application as well.
6. Approve the Sale
The dealer can finalize the sale after completing all the paperwork. The buyer is presented with the firearm at this point, although it must be unloaded and wrapped up before it leaves the shop.
7. Reject the Sale
There are cases where the dealer has to reject the buyer because of the background check. The State Police will inform the seller of the background check failure, and the seller will then pass this information on to the buyer. The purchaser can ask for a review from the State Police or through the Pennsylvania Attorney General.
Dealers must follow the protocols for selling a firearm in Pennsylvania closely to retain federal licensing. It sounds a little complicated, but dealers and State Police officers conduct these checks regularly, and there is a system set up to handle them in a reasonable timeframe. Those who have passed their check should consider training on carrying a handgun safely.
Get Concealed Carry Training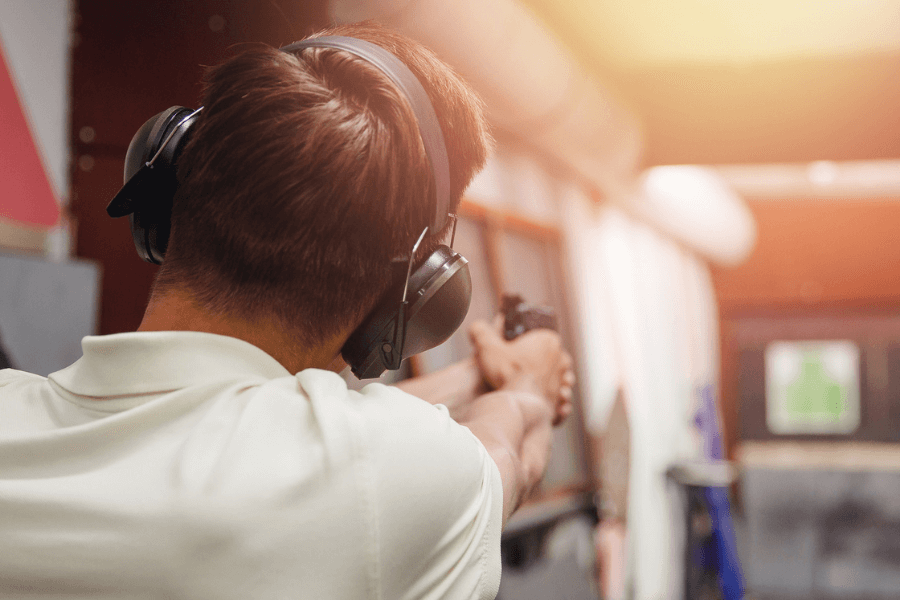 No permit is needed to own a gun in Pennsylvania, but you'll need a Pennsylvania License to Carry Firearms to carry a concealed weapon. No formal training is necessary to obtain this license, but it's highly recommended that you take a quick training course to teach you how to handle your new firearm safely.
Concealed Coalition offers an online firearm safety training course and certification for Pennsylvania residents. Our certified trainers are also available for lessons that will teach you to safely carry and use your firearm, helping keep you and your family free from danger. Contact our team today to go over your concealed carry educational needs.